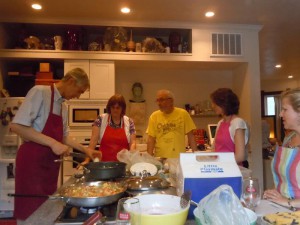 Becoming vegan isn't as hard as you think. With all the delicious vegan foods that are now available in major grocery stores, it's fun and easy to go vegan!
Here are some resources to help you go vegan:
The library
Go to the Sacramento library web page and search for vegan cookbooks. They have a ton and they can deliver the ones you want to the library closest to you. It's a fun way to check out all kinds of cookbooks and find the ones you like the most.
Vegan Cooking Shows
There are thousands of great vegan cooking shows on YouTube and iTunes.   Many are very high quality.  Watch out, Martha Stewart!  Here is a list of some of the many vegan cooking shows out there:
Read the label
Many of the things you eat might already be vegan.  Many companies save money by replacing meat and dairy with cheaper vegan substitutes.  The reverse can be true, so it's always good to check labels.
More resources
Here are some articles to help you go vegan:
50 Fantastic Resources for New Vegetarians by Matt Frazier
5 Tips for Going Vegan by Michelle Weiss
Top 10 Go Vegan Tips by Lindsay S. Nixon